Photo: Google Image Search
So, remember
this post
? The one where I discussed our toilet shooting out poop water? Well, it has sorta happened again...but, fortunately, it wasn't poop water this time although it did kinda look like it.
Monday, we had an old water tank disintegrate and spill onto our bathroom floor from the ceiling. A water tank that was so old and rotten,it basically fell apart. And with this falling apart came a flood of brown water all over our bathroom floor. Now, we knew it was coming because we had some fellas here doing other water related work that just happened to find the faulty tank, so we were able to get our new goods and my scrumptious new shower curtain outta harm's way, but it leaves me thinking...does the bathroom here really hate me? I mean, there is no other explanation, right? Barry has lived in this flat for YEARS and nothing like this has ever happened to him and I've been here for five weeks and we've already had a poop water incident AND a rotten brown water incident! So why does it happen after I get here and make it all pretty in purple? You can read more about the pretty in purple thing
here
.
Perhaps the bathroom doesn't like all the new changes I've put it through. Maybe it doesn't like the color purple, although, I can't think of why anyone or anything would NOT like purple? It's awesome.
Now, the super shitty part about this, aside from the fact that I have to once again clean the bathroom from top to bottom to eradicate the brown, rotten water stains that have set up camp all over the floor, walls, ceiling and even our towels, is that because the tank leaked through the bathroom roof,it has fried our bathroom light! So, that means until we get that fixed, at night, we have to use the bathroom by way of candlelight or a flashlight (or a torch as the Irish would say). Which means I have no light when it comes time to
pluck away my black chin hair
stare at my beautiful reflection.
Oh, but the bathroom won't win...oh no! I will come out on top and I will show the bathroom who's boss 'round these parts because tomorrow, I'm going to Pound Stretchers and I am going to buy more purple stuff including a purple toilet brush and toilet seat. Ha! I'll show you bathroom!
On another note, I have to say thanks to Rachel over at The Mean Girl Diaries for her rave review of my book! Thanks, Rachel! Go check out her blog...she's a funny gal!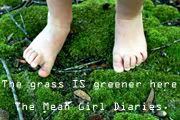 Oh yeah, and I did it again with the language barrier thing. Check out
this post
or
this one
for other language slip ups. I told someone the other day that they "cracked me up," which Americans would take to mean as you make me laugh. Here, however when someone says cracked me up, it means that they've made you angry!! Ooops! I certainly didn't mean to say that! I think I need a slang dictionary so I don't offend anyone.